| | | |
| --- | --- | --- |
| Welcome | | You are not currently logged in. |
Organize Today!

Looking for more information on Organizing your workplace?
Click Here
| | | |
| --- | --- | --- |
| | | |
| | | |
| | | |
Death Notice
Deceased: Anthony Vinci
Father in Law: Dom Delibertis Watch Engineer Rockland
Viewing: Thursday June 15, 2017
T.J. McGowan Sons Funeral Home
71 Central Highway
Garnerville, N.Y. 10923
Hours 4:00 - 8:00 p.m.
Dear Brothers and Sisters,
40,000 workers at AT&T just announced that they will walk off the job for three days starting Friday at 3pm ET/Noon PT if they haven't won a fair union contract by then. Workers have been at the bargaining table for months fighting for good jobs against a company dead set on lining its pockets at the expense of the workers who make them billions. This weekend we are sending AT&T a message that we are united and ready to fight.
This will be the biggest strike in the United States since Verizon workers walked out last year, and may be the biggest strike of retail workers at a national company in U.S. history. The strike would include 21,000 retail and call center workers at AT&T Wireless across the country, and 19,000 AT&T West landline and DIRECTV workers in California and Nevada, along with landline workers in Connecticut.
We are asking you to email all of your members and supporters, and let them know about this important strike. And we are asking you to mobilize to bolster our picket lines this weekend. You can access a package of support information here, including a version of this letter, another possible version of an email blast, and social media materials.

https://drive.google.com/drive/folders/0B3AE1ah7Z4ascWxpMG1iZE5VNEk?usp=sharing
Click here to find a location near you and RSVP. We'll be back in touch to let you know if there is no settlement and we are on strike Friday. [https://actionnetwork.org/event_campaigns/strike-at-att-mobility]
If you can't join us on the picket line, click here now to send an email to CEO Randall Stephenson to say you stand with workers fighting for good jobs. [https://actionnetwork.org/letters/send-a-message-to-ceo-stephenson?source=YOURORGNAME]
Workers at AT&T have seen benefits get more and more expensive year after year and have watched as AT&T downgrades and offshores thousands of jobs. And this isn't just about AT&T, which is the 10th largest company in the country and made $13 billion in profits last year. We have to take a stand to say working people can't be used and abused while companies make billions off our backs.
If workers do hit the street on Friday, they will be striking to protect their jobs (which are being outsourced left and right), preserve affordable health care, and stop their wages from stagnating.
Please sign up here to join a picket line either Friday, Saturday or Sunday! [https://actionnetwork.org/event_campaigns/strike-at-att-mobility]
This fight is bigger than AT&T, this is about working people standing up to corporate power for good jobs and a better future. I hope you'll join AT&T wireless workers on the picket line this weekend.
Big news! Momentive workers have reached a tentative agreement to end the 14-week strike in Waterford, NY.
Supporters like you came out to the picket line, signed petitions, came to rallies, and donated thousands of dollars that helped support the working families on strike.
Your help has been invaluable and we offer our sincere thanks.
Details of the agreement are being withheld until they are presented to workers at contract explanation meetings this weekend, but we are confident the agreement addresses the concerns of workers about retirement and health and pension security.
Workers will vote on the contract next week and, if the contract is approved, will return to work on Wednesday, February 15.
Thank you again for standing with the working families on strike. Your support helped strengthen the power of working people not only in Waterford, but across the country.
?Great articles about Altice follow the link by clicking on the link above
Find out whats going on with CWA at Altice, just click on the picture.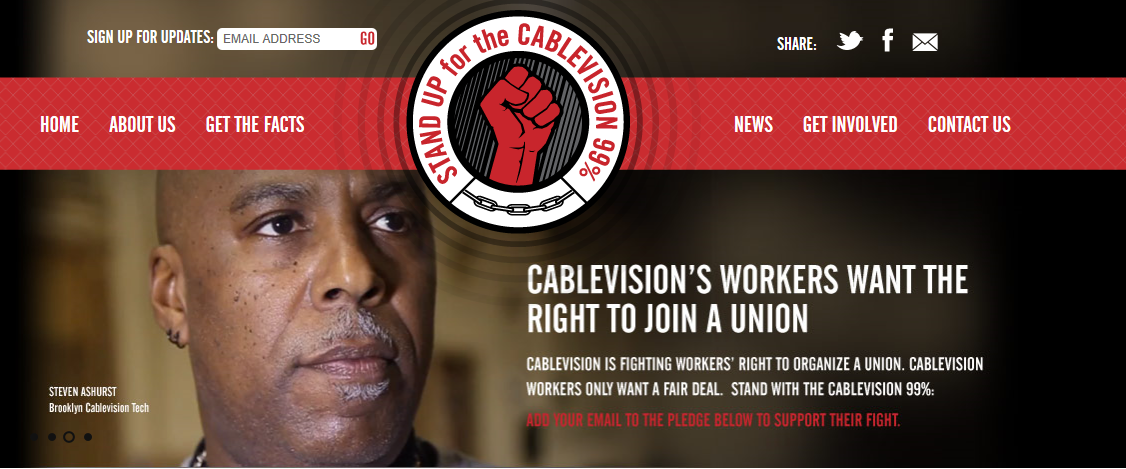 The 2017 Annual Open Enrollment Dates are as follows:
November 7, 2016 to November 18, 2016 – (these dates are for Active employees and Retirees)
This is your opportunity to review your benefits and make any changes to your benefits.
Retirees are urged to make any changes during the annual enrollment period, however they continue to have "Anytime Enrollment". When a retiree makes a change outside of the Annual Enrollment period, the change is effective the first of the month following a 30 day period. So, under "Anytime Enrollment" a retiree could make a change up through November 30, 2016 to be effective January 1, 2017.
Medicare Eligible retirees in the MEP HCP, HCN or HIP Health Plan of New York Medicare medical plan options will be automatically enrolled into the corresponding MEP or HCP or HCN Advantage Plan option. The HIP Health Plan will be eliminated in January 2017 and those Medicare eligible retirees will be automatically enrolled in the MEP Advantage Plan option, so if they prefer the HCN they have to enroll in it.
All other 2016 Elections and designations automatically carry over into 2017 Annual Enrollment, Members who want to stay with their plan without any changes don't need to do anything.
If you have a Qualified Life Event between now and the end of the year, you will need to make changes on BenefitsConnections for both 2016 and 2017. Examples of a Qualified Status Change are adding a spouse if you get married, adding a child when there is a birth of a new baby etc.
Annual Enrollment Guides will be sent to employees and retirees toward the end of October.
Health Assessment Credit
Any member who previously completed a Health Assessment will receive the $100 Health Assessment credit in 2017. There is no need to complete a new assessment, if you are currently receiving the credit.
If you are not currently receiving the Health Assessment credit, complete the Health Assessment before January 1, 2017 to receive $100 credit toward your annual medical plan contributions for 2017.
Non- Tobacco User Credit - $600
· If you are a non tobacco user and are already receiving credit, no further action is needed.
· If you are not receiving this credit and DO NOT use tobacco products, indicate your NON-TOBACCO status on BenefitsConnection to receive your $600 credit towards your annual medical contributions.
· If you and your covered dependents DO USE tobacco products but have completed a tobacco cessation course within the last six months indicate your status on BenefitsConnections during Open Enrollment for the full credit.
· If you have NOT yet completed a tobacco cessation course, you can earn the full Non-Tobacco Credit in 2017 if you and/or your covered dependents satisfy the reasonable alternative standard as follows;
1.) During Annual Enrollment, log on to BenefitsConnection and answer the Tobacco User Status question while completing your Annual Enrollment elections: - answer YES and intend to complete a tobacco cessation course before July 31, 2017.
2.) Before July 31, 2017, complete a tobacco cessation course such as QuitNet or the Verizon HealthZone Health Assistant, and log on to BenefitsConnection. Answer the Tobacco User Status question: YES and completed a tobacco cessation course within the last 6 months.
You MUST update your Tobacco User Status response by July 31, 2017 in order to receive the full Non-Tobacco credit. Any update made to your tobacco user status after July 31, 2017 will result in a prorated credit for the remainder of the year.
.
Retirees:
In the 2017 plan year, the cost of coverage for two (2) of the Pre-Medicare plan (MEP and UHC Passport/ Harvard Pilgrim) options will exceed the applicable retiree caps and will require contributions. Your current elections will automatically continue unless you make a change. Pre Medicare Retirees should carefully review the open enrollment materials and elect the plan that is best for you.
The billing process will remain unchanged from the process that is in place today for those who are already making contributions.
Anyone that is enrolled in a benefit that requires contributions will receive a bill.
Bills are mailed by the 15th of each month with a due date of the first of the following month. For example, the bill for the contributions for January 2017 will be mailed/posted to the web by December 15, 2016 with a due date of January 1, 2017.
Retirees can elect to have contributions paid via ACH debit or pension deduction:
Because ACH direct debit is the fastest and easiest way for a retiree to pay for coverage, it is highlighted on each monthly invoice that is mailed home to encourage enrollment. The retiree can enroll in this option on the secure BenefitsConnection website by providing his/her routing and checking account number. The balance due would be debited out of their account on the first business day of the month. For example, January's balance would be debited on 1/3/2017.
A retiree who is receiving a monthly pension also has the option to have his/her deductions taken from their pension check. A retiree would have to call the Benefit Center and speak with a representative to enroll in this option.
Tax Form is Coming for Active Employees and Pre Medicare Retirees
The Affordable Care Act requires proof of healthcare coverage at tax time. As a result, tax forms (1095s) that show your health care coverage for the prior year will be sent out to active employees and pre Medicare retirees in the beginning of the year. Save this form to file with your taxes.
Life& Accidental Death & Dismemberment Insurance (AD&D)
Annual enrollment offers you the opportunity to make changes to your current life insurance coverage amounts and/or waive coverage. The rates for coverage are base on age ranges. As you and your spouse fall into a new age band your costs could increase. If you choose to continue your coverage, no further action is required.
Confirmation Statements
Similar to last year, confirmation statements will not be distributed to employees and retirees. Confirmation statements can be printed out on the BenefitsConnection website or one can be requested by calling the Benefits Center.
There are changes to your plan which result in improved benefits which are outlined in the annual enrollment material. These benefits include:
Child life Insurance- will be available for a dependent child up to age 26, regardless of student status.
Under the ACA, additional updates have been made to the preventative care benefits that must be offered without cost sharing.
Transgender coverage will be provided when "medically necessary".
Women's Health Care Right Act requires the plan to cover all stages of reconstruction on the breast where a mastectomy was performed.
Certain therapies for the treatment of Autism Spectrum Disorder (ASD) will be covered by under the MEP, HCN and EPO plans (HMO participants can check coverage with their HMO's). This benefit will be retroactive to 1-1-16. Claims that were submitted in 2016 will be re-processed. For members who inquired about this benefit in 2016, Verizon will reach out to them to submit their claims.
Attachments:
-Memo to Locals
-Annual Enrollment 2017 for Actives
-Annual Enrollment 2016 for Post 91 Retirees
-Annual Enrollment for 86-91 Retirees
-Market Summary for Active/Pre Medicare Plans (These are the plans that are available for 2017.)
-Market Summary for Medicare Plans. (These are the plans that are available for 2017.)
Download:

Fwd__Annual_Enrollment_-_Verizon.zip